I should have known better.  Taking my high energy six and three year old to Home Depot with me while my friend and I shopped for lumber for the garden planter box I'm having built, was not one of my best stay-sane mommy decisions.
"Girls! (insert mean mommy face) Stop running!"
Ignoring me through the awesome fun they were having in those long Home Depot aisles, they continued to…well…be kids.
"Girls!  I mean it!  You better stop running around before someone ends up getting hurt!"
Hearing the serious mommy tone along with the distraction of a really cool ladder they could climb and sit on slowed them down for a few moments, while I continued to try to be of assistance to my dear friend who had taken on the responsibility of wood shopping, alone.
Only moments later, out of the corner of my eye,  flashing glimpses of my three year old's dress over her head as she attempted wobbly cartwheels across the hard concrete floor sent me into near mommy meltdown.
"Ahem!  DON'T do that!  Your bottom is showing and you'll end up bonking your head on the hard concrete floor!"
But what really sent me over the edge was the tag game that followed, causing my six year old to trip over her own feet and experience the painful sting of road rash across her bare knee.  The cry out loud, blood curdling tears began, and then she did it.  She looked down at her knee.  And you know, it always hurts worse when you examine the injury with your own eyes.
"Moooommmy!  It's bleeeeeding, reaaalllly bad!!  I need a band-aid!"   And she turned the volume of crying up a notch.
At this moment two things happened.
One - I was so furious that I had asked them over and over to stop because I didn't want this very thing happening, that I was tempted to let my temper rage, yelling at my daughter right there in the store, but I didn't.  Instead, I chose the talk-with-your-teeth-clenched-under-your-breath-I-told-you-so tone of voice.  Then I hugged her.
Two -  Do you think being the SuperMom I am, that I actually had any band-aids in my purse?  Nope!  Do you know how many times I've told myself to put band-aids in my purse for moments such as these?  More times than I can count.  Do you think I've actually done so since this happened?  Nope!  Thankfully, I had diaper wipes in the bottom of my purse to help control the bleeding.
So what does the story of my out-of-control (yet totally acting their age in Home Depot) children have to do with gardening?
Really, it's my first gardening lesson learned.
Never take your kids with you to Home Depot or anywhere similar when you need to be able to focus on what you're about to purchase.  Places like that are every young child's dream play area for cranking up the imagination and energy.  Long aisles to run up and down.  Short and tall ladders to climb.  Lumber carts lined up in long rows to be used as tunnels to crawl through.  Yep, every kid's dream playground.
I'm so grateful to my dear friend, Caprice, who not only did all the research, pricing, picking out, loading, and hauling of the lumber, but is also building my garden box for me.  I'm incredibly blessed by her friendship.  And not just because she's doing this awesome thing for me.  She's one of those friends that truly loves me for who I am; one who I know I could call in a pinch and she'd be there for me.  She is however, going to make me sand and stain the box once it's built, so I have some investment into the project, besides just the financial part.  Can you tell, she's also a mom! 
So today as I link up with Val over at Mental Chew for her 'How Does Your Garden Grow?' series, I'll share that for me, this past week was about determining where I would be planting my garden items and making sure I had the necessary containers for them.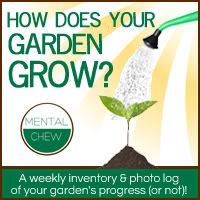 It's too soon just yet for me to start physically planting anything.  I might do some seeds, but for simplicity sake, I'm really leaning more towards finding starts for the plants I want, and planting them that way.  This means I'll have to wait a week or two to be sure we've gotten past the chance of freezing temperatures or one last snow.  Personally, I doubt the weather will turn that drastically given how mild our winter has been, but I could be wrong.
Did you learn any gardening lessons this week?
The following two tabs change content below.
Rosann is wife to the man of her dreams and stay-at-home mom to two delightful little girls. Her heart's greatest passions are loving her family well, long-distance running, writing, and pretty much anything dark chocolate peanut butter. Rosann loves to encourage women whose husbands are in a season of unemployment, at her other website UnEmployedFaith.com. Her writing inspiration comes from a strong desire to glorify God while sharing the heart of her journey through a life of faith. She is also the Author of two books - UnEmployed Faith: Clothing Yourself in Strength and Perseverance Through his Season of Unemployment, and Refuel Your Inner SuperMom: A Practical Guide to Getting Your Groove Back.
Latest posts by Rosann Cunningham (see all)