Last week my daughter discovered the power of Google.  "Daddy, the internet knows so much!" she exclaimed one evening.
Being the creative girl she is, she did her online research and put together a book about nature, including fun facts about bees, butterflies, foxes, and bunnies.   She illustrated her book with pictures and colored them.  She even included a cover page and an About the Author page.
I was blown away that she had come up with this idea all on her own.  I beamed as I watched her tuck this precious gem neatly down inside a gift bag which held the birthday gift we had purchased for her friend.
So what does this have to do with gardening?
Nothing really.
Except that my daughter inspired me!
Yesterday I decided to pick this gorgeous strawberry.  The girls wanted to eat it.  So did I!  So the three of us each took a little nibble of its sweet, juicy, deliciousness.  Yum!   I really hope this plant begins to produce more than one or two strawberries at a time!
Anyway, here's where the inspiration comes in.
10 Fun Facts About Strawberries
Strawberries are an easy plant to grow and can be grown anywhere  in the world.
One cup of unsweetened strawberries has only 55 calories.
Strawberry juice combined with honey will reduce inflammation or sunburn.
There's a legend that says if you break a double strawberry in half and share it with a member of the opposite sex, you will soon fall in love with each other.
Strawberries are the only fruit that has seeds on the outside, which is about 200 seeds.
Strawberries have long been a symbol of perfection and righteousness and stonemasons would often carve a strawberry onto altars and stonework in churches and cathedrals.
Strawberries are a member of the rose family.
For the best flavor, strawberries should be served at room temperature.
Strawberries have been proven to help prevent cancer.
It takes 3 days for strawberries to complete the cycle of turning from green to white to red.
*Source:  Wikipedia , Pickyourown.org, Berries.com
And now, a few pictures so you can see how my garden(s) are growing.
Broccoli
Roma Tomato
Baby Watermelon
Petunia
I'm linking up with my good friend Val, at Mental Chew for her How Does Your Garden Grow? series.   Be sure to click over to her site and check out how her garden is growing…and so much more!!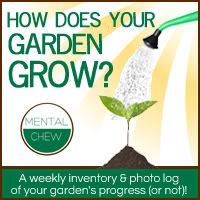 My question for you...
Do you have a favorite strawberry related recipe?
Author of ChristianSuperMom and UnEmployed Faith (blog / eBook). Her writing inspiration comes from a strong desire to glorify God while sharing the heart of her journey through motherhood, marriage, life and faith. When not pouring her heart into her husband and daughters, she can be found enjoying her deepest personal passions - writing, reading, encouraging other women in their walk with the Lord, or jamming out to the latest Christian rock music for a long distance run.
Latest posts by Rosann Cunningham (see all)
Other Posts You Might Enjoy: